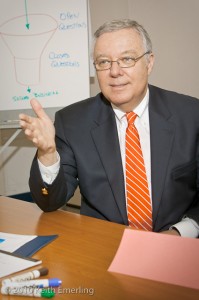 When I first started selling, I was awkward and clumsy. I didn't ask very good questions. I just spoke non-stop about my product. It's a wonder I made any sales. But I kept going.
I learned that selling is a process, and has specific skills, behaviors and attitudes. I learned that customers are not the enemy, that they just want a good product or service at a fair price. I also learned that customers are wary of salespeople because most of them have been manipulated or mislead more than once.
… and I have never forgotten that lesson. I speak about the value of customers all the time.
I founded FRONTLINE Training in 1987 to share those lessons and to bring you over 35 years of sales, management and training experience. I have been successful in many different sales environments including wholesale, retail, manufacturing and consulting.
My approach has allowed me to work successfully with service companies, manufacturers, utilities, government agencies, and retail and wholesale organizations. My clients have included Ford Motor Company, Transamerica, PepsiCo, MapInfo, Godiva Chocolatier and numerous Federal and New York State agencies.
I believe in spreading the word, so I've been active in many different associations and organizations. I am the past President of the New York State Capital Region Chapter of the International Customer Service Association (ICSA). I have served on the board of the Hudson-Mohawk American Society for Training and Development (ASTD), where I also chaired the Sales and Customer Service Special Interest Group. I am the past President of the Berkshire Entrepreneurs Network (BEN), and I am a member of The Albany-Colonie Chamber of Commerce, The Berkshire Chamber of Commerce and the Consulting Alliance.
A final word: dealing with customers should be a positive and stimulating experience. I think customers are wonderful to work with even when they are challenging. The sales arena is a great place to work, and a great place to help people.